All beers sold in 9 gallon casks and subject to availability. Please contact office for details.
Black Ops


3.8% ABV
A black fruity session beer with bags of character and blackcurrant finish.
Level Best


4.0% ABV
'Level' as it is affectionately known to its loyal drinkers has now been brewed for 22 years. This classic beer is a ripe harvest golden colour, brewed with Phoenix hops, leaving a slightly citrus aftertaste.
Copper Ale


4.1% ABV
This copper coloured ale is a lovely balance of chocolate malt and WGV hops giving this best bitter an all-round appeal.
Summertime Blues


4.1% ABV
A mid brown session beer with sparkling tangerine overtones that linger to the finish.
Golden Valley


4.2% ABV
Brewed with both lager and wheat malt this celebration of summer is smooth and light.
Chocolate Porter


4.2% ABV
Classic porter style beer brewed with the addition of 100% pure cocoa solids.
Well Sprung


4.3% ABV
Well rounded, Well hopped, Well made!
A refreshing pint to welcome the arrival of spring.
Anthem


4.3% ABV
First brewed to celebrate twenty years of brewing, made with six of England's finest hops.
Complex - not half!
Hoppers Ale


4.4% ABV
A gorgeous copper colour, brewed with 100% Goldings hops. The initial burst of hop is followed by a pleasant caramel taste that makes this ale dangerously drinkable.
Ruby Wheat Beer 'RWB'


4.4% ABV
A well balanced wheat beer brewed with First Gold and Cascade hops, which give this a unique chocolate-orange taste.
Boadicea


4.5% ABV
A straw coloured beer brewed with 100% Boadicea hops. Delicate fruity flavour, strong but subtle for its strength.
N.I.P.A.


4.5% ABV
A traditional I.P.A. brewed with the classic English Admiral hops. Golden in colour, it is both bitter and sweet.
Blues


5.0% ABV
This dark brooding winter brew is full of complex tastes such as chocolate and raisins. It has a roast finish and yet is deceptively smooth, making it a most quaffable beer for its strength.
Exit


5.7% ABV
An intense I.P.A. packed with flavour with hints of peardrops. At 5.7% it's not called EXIT for nothing!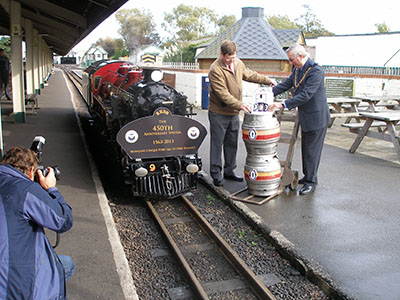 Stephen with the Mayor of New Romney at the launch of Cinque Ports Ale.
Cinque Ports Ale


4.4% ABV
A copper coloured bitter brewed with Goldings hops - easy drinking.
The Cinque Ports Ale shown above was first produced in 2013 at the request of the Mayor of New Romney as part of the celebrations for the 450th anniversary of the Cinque Ports Association. Available in both casks and bottles it proved to be very popular and has been an occasional brew ever since.
Smild


3.8% ABV
Popular dark mild.
A full bodied creamy pint with hints of chocolate.
Holly Daze


4.2% ABV
Triple hopped and light bronze in colour. A very refreshing ale. Just what Santa ordered.
Easter Ale


4.4% ABV
Hoppy Ale, amber coloured with a reddish tinge and a slightly chocolate finish.
Ebulem


4.5% ABV
An ancient term for an elderberry beer. This superb porter combines organic elderberries grown at the brewery with black and chocolate malts to give a fruity roast finish.
Available direct from us in cases of 12 x 500ml.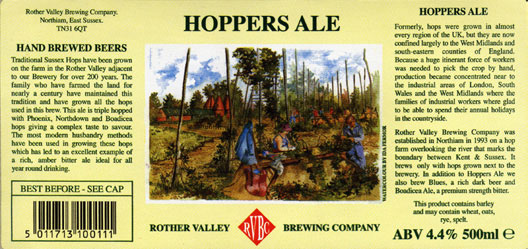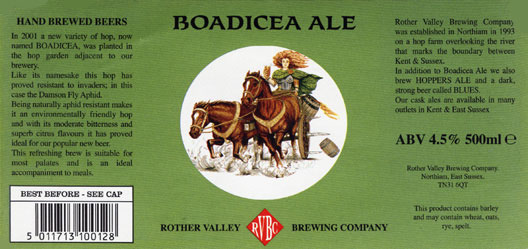 Available from the Kent & East Sussex Railway in their buffet and shop at Tenterden Station and on some of their train services.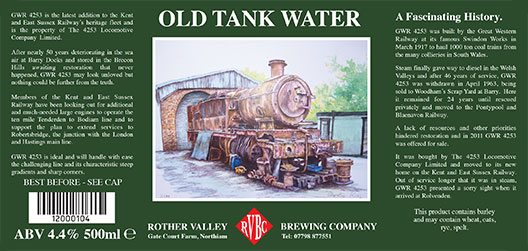 Brewed in order to assist in raising funds for the restoration of GWR locomotive 4253 on the Kent and East Sussex Railway and available from them.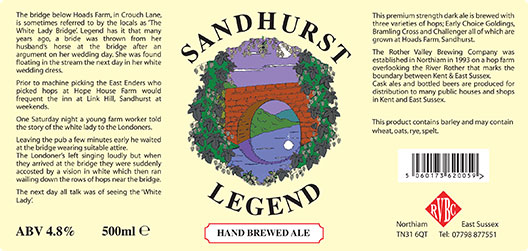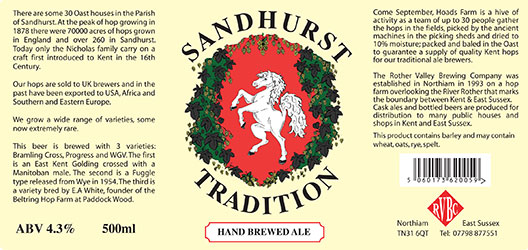 Available from Sandhurst Vineyards.